Photos Courtesy of GOTBLUEMILK.COM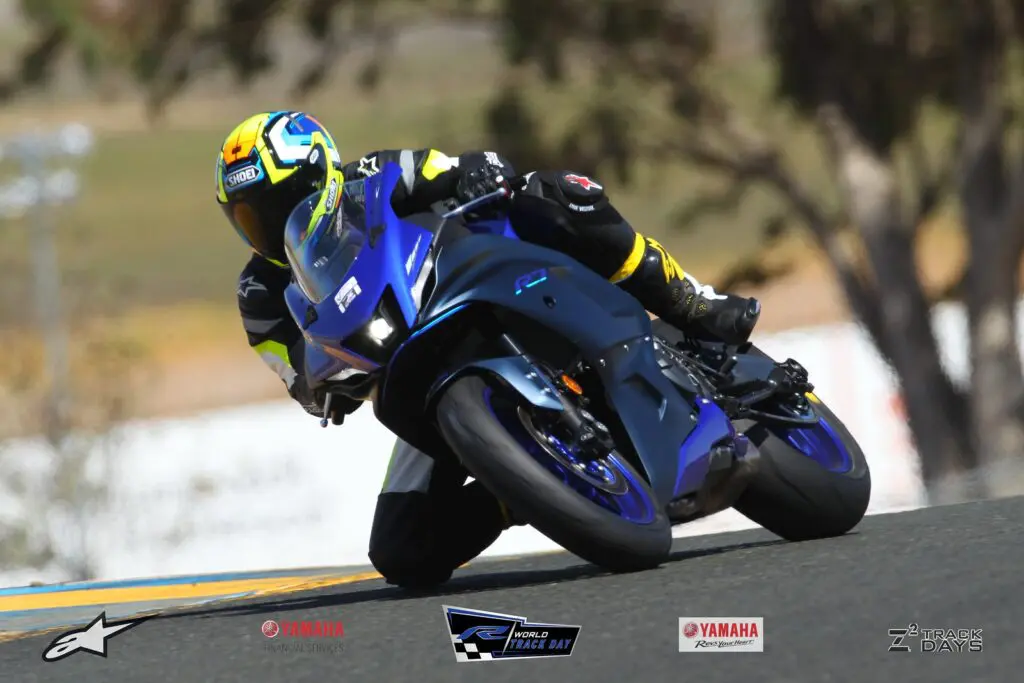 Whether you are an experienced rider looking to tone it down a bit or a new rider looking into a motorcycle that is easy to ride on the road or track, then you should be excited about the brand-spanking new 2022 Yamaha YZF-R7. Not only does it look like a chip off the old block, but it offers a solid combination of real world performance and the allure of the legendary R-series style with a price tag of $8999.
Our opportunity to get acquainted with this latest incarnation of the R7 took place at the annual R World Customer Appreciation Trackday at the legendary Sonoma Raceway. The folks from Z2 Trackdays have been hosting R World since its inception over a decade ago and it has become a model for customer focused track events across the USA. Yamaha Motors was there with a fleet of R7 and R1M motorcycles for a variety of journalists and VIPs to ride during the event. We were lucky enough to weasel our way in so without further adieu, here's MotoUSA.com's riding impression of the 2022 Yamaha YZF-R7.
WHAT'S IT LIKE TO RIDE THE NEW R7? FUN. LOTS OF FUN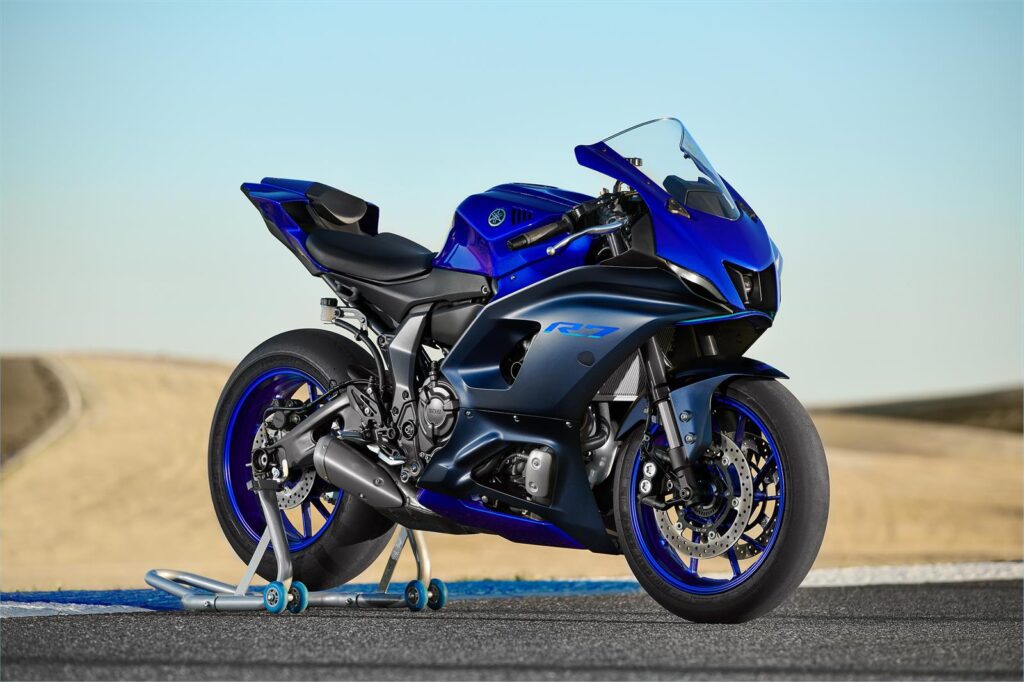 From the moment you climb aboard and grab hold of the bars, the R7 feels familiar. The upright riding position is great for anyone in the 5'6" to 6' range, so if you're in that category, we expect you'll feel right at home. The seat is slim but well padded and is narrow enough in the front where it intersects with the fuel tank, to allow for an easy reach to the ground despite a tallish 32.9-inch seat height. This bike also feels very slim between your legs as a result of Yamaha going through great lengths to create the slimmest motorcycle in the R-family. The LCD flat screen instrument panel looks trick and it includes a large font speedo, tach, GPI, fuel gauge, clock, yadda, yadda…it's cool.
The windscreen is not too huge but I was able to squeeze-in tight behind it once I sucked my belly in for a few seconds. Taller riders may be a little bent up by the otherwise comfortable riding position and their helmet will likely poke above the windscreen a bit. The 3.4-gallon fuel tank has a nice notch on the top so you can tuck your chin and get behind that bubble but do we really need to be in that full racer tuck? I'm not sure, but it is fun to pretend we do nonetheless.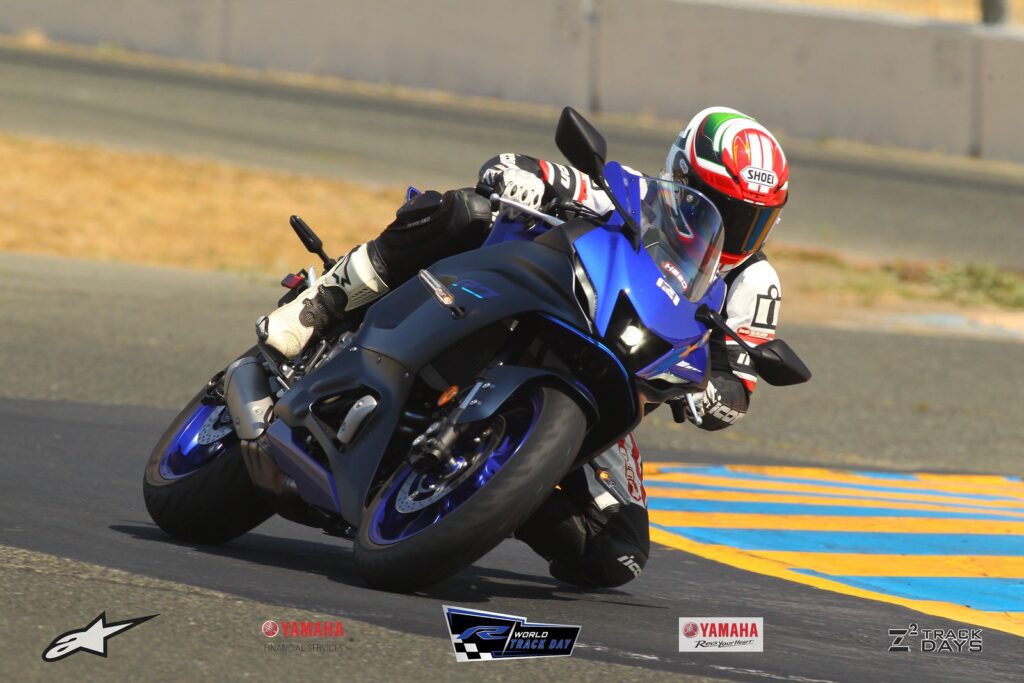 When you fire the R7 up it's almost silent at idle with only a mellow purr dribbling from its EPA-friendly exhaust. Blip the throttle a few times and you can tell the engine has potential though. Out on the track the 689cc twin takes a while to spool up but once it does, the bike is faster than you might expect. When the engine with its 270-degree crank configuration is spinning in the higher rpms it emits a sweet growl that is begging to be uncorked with a good slip-on. I've always liked the sound of a good running twin, so I may be a bit biased here.
The nature of most parallel twin engines is a linear powerband, which is the main reason the R7 is considered beginner friendly. In order to build some decent speed you just have to keep it high in the revs and focus on carrying momentum into and out of the turns. It's the same recipe for hauling ass on any motorcycle so what's the big deal with mellow power delivery? Basically, it's a good motorcycle to learn on. It's not too aggressive and it's forgiving so this is an ideal motorcycle to train a person how to ride – imagine a powerful R3. That's sort of what the R7 is.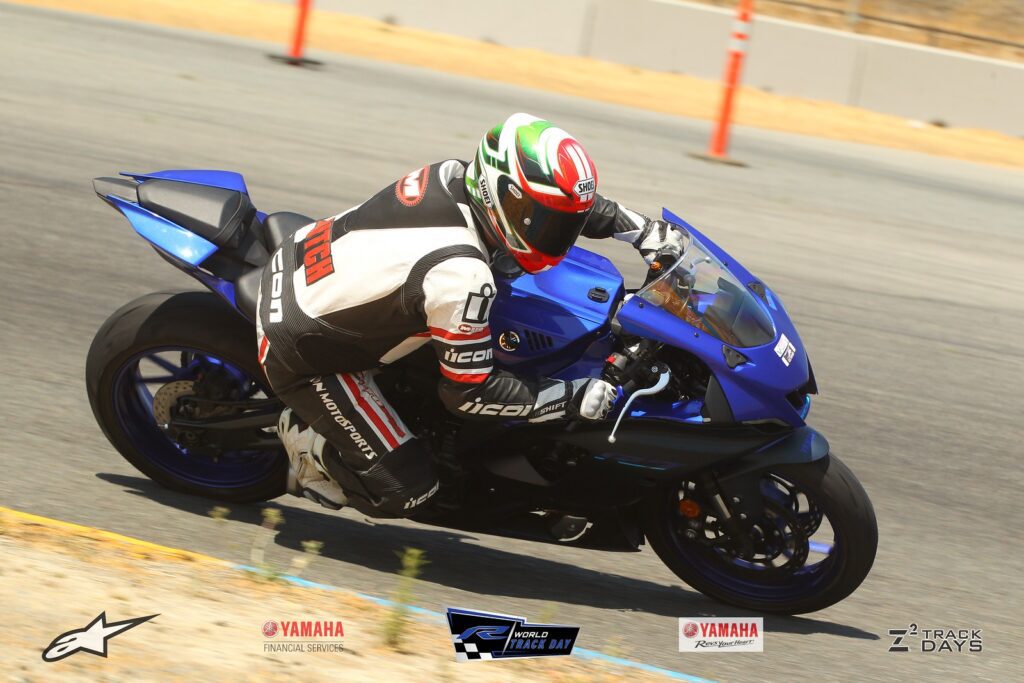 RIDING THE NEW R7
What else is good about the R7? Well, as far as the chassis is concerned, this is a solid steed to help scuff up your knee pucks. At a fast B-group rider pace the stock YZF is a load of fun. While suspension is on the soft side, it is a fine conduit for feedback from the track to the rider at those speeds. Yamaha adorned it with a fully adjustable 41mm inverted fork, Link type monocross shock that is valved on the soft side because it's a street bike, not a race bike. For the majority of new and intermediate riders, this setup is more than capable, plus the brakes are seriously good too. A pair of 298mm discs with radial-mount four piston calipers look good on the spec sheet and provide plenty of power and good feel when shedding speed on this 414-lb beast.
Heck, there was a point where it felt that I couldn't put a wheel wrong as I motored around Sonoma's 12-turn road course. The little Yamaha had me on all manner of alternate lines so that I could carry speed and make passes on bikes that had way more power or just happened to be in the way. Without a load of horsepower on tap, momentum is the name of the game and for the most part the bike was easy to flick around and felt stable at the speeds I was riding. There were two R7s we were riding during the day, one had the stock Bridgestone Battlax tires while the other was shod with Pirelli Supercorsas. While the stock tires did just fine, the Supercorsas are one of my favorite track day tires so I was more comfortable pushing harder with them holding me to the track.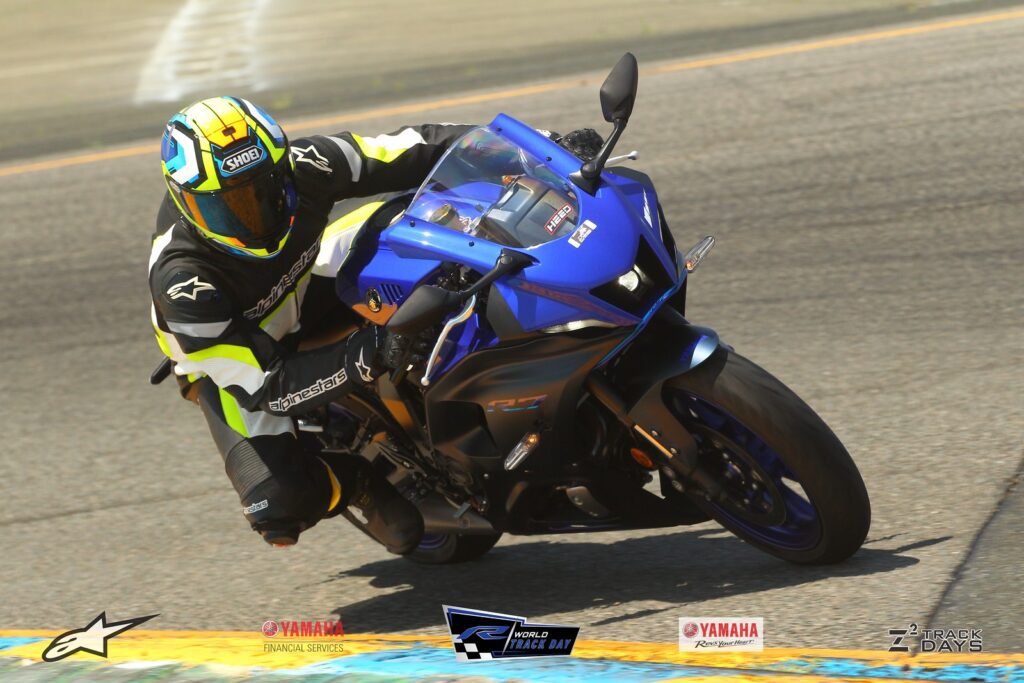 When you are riding a trackday, the groups you choose to ride in are typically full of riders who are in the same ballpark in regards to speed and ability so you might get an R3 that's passing everyone while a R1M is getting passed by someone on an R7 who can ride better. (I was the guy on an R1 in that scenario BTW). But the name of the game is to avoid riding over your head and that's where a bike like the R7 comes into play. It's easy to ride and that takes some of the danger out of the equation.
So, can a stock R7 hang with the A-groupers? You bet. But not with me at the controls. Once you start pushing it hard, that's when that suspension starts getting taxed. As a result the bike moves around quite a bit and the front end dives when you're braking hard too. But it has a slipper clutch so that makes downshifts a breeze no matter how fast you're riding. In the end, the YZF-R7 is about having fun, not earring pole position for the next trackday grand prix.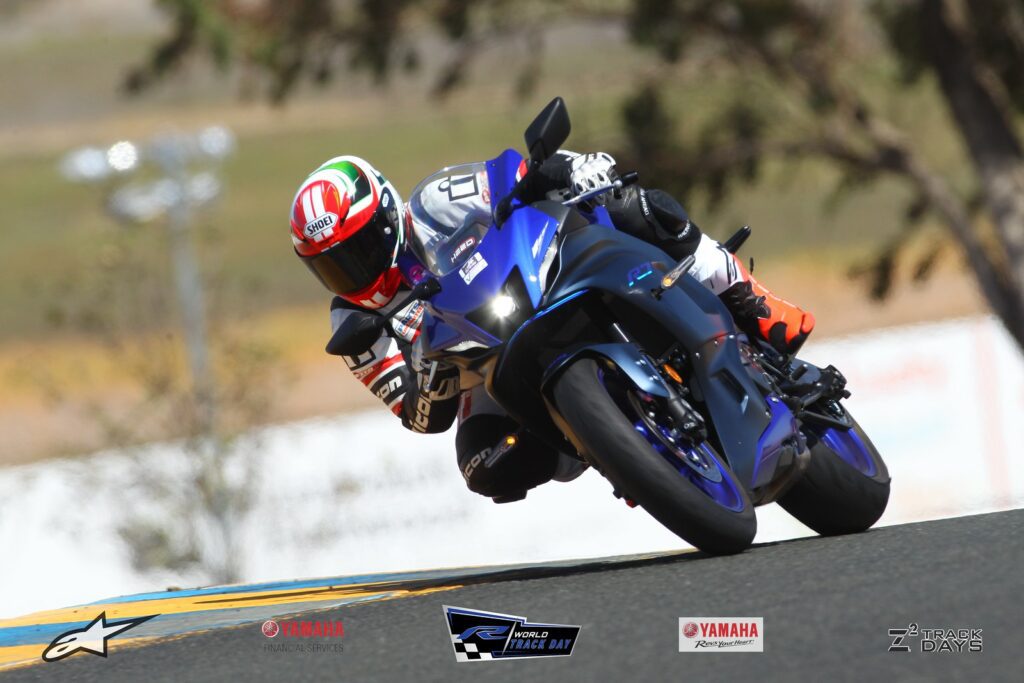 A NEW ERA IN THE SUPERSPORT CLASS
At some point I started to wonder, how did we get here? What is behind this popular parallel twin-powered motorcycle segment? Historically, middleweight sportbikes like the now-defunct R6, with their screaming inline four cylinder engines churning out 140-horsepower at 17,000 rpm were the only choice for the newbs. The rationale behind the development of the R7 and other bikes like it, is that previous modes of thought might have scared new riders away so manufacturers changed it up and the consumers like it. The 600 supersport was once considered the perfect motorcycle to transition from a 250-300cc had slowly evolved into a small-displacement screaming superbike that was so specialized that mere mortals could barely come to grips with riding them.
Fast forward a couple decades later and most of the high revving beasts are gone, replaced by much more mellow, easy to ride motorcycles like the R7. The majority of riders don't need that crazy power nor do most of us even have the skill or desire to eek it out of a high revving engine. On that note, not everyone is capable of getting the most from the latest state of the art brakes and suspension for that matter so when you think of it that way, these motorcycles start to make a lot of sense. But, I digress.
We are here to talk about the merits and shortcomings of the 2022 Yamaha YZF-R7.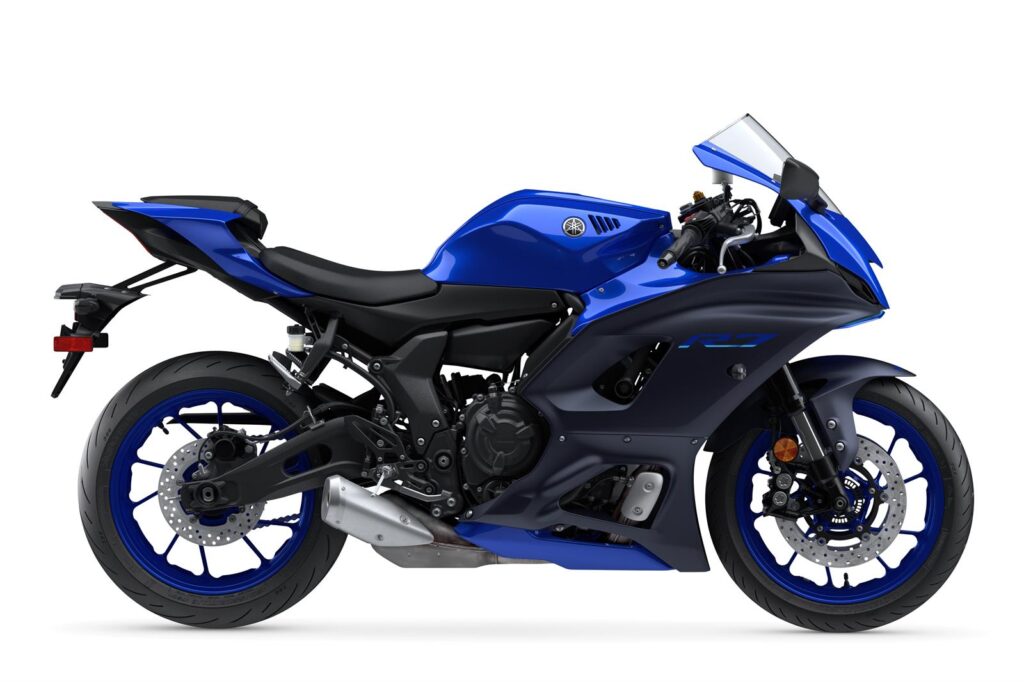 OUR FINAL THOUGHTS
The R7 is an enjoyable motorcycle to ride on the track at a spirited pace. It's comfortable and not intimidating, plus it looks damn good. It's not intended to be a repli-racer so if you push past its limits it can be a challenge to ride aggressively. Remember, the R7 is designed to be an excellent option for the less experienced riders or someone searching for a capable motorcycle that is simply easy and fun to ride. I've had the honor of riding all sorts of bikes on tracks around the globe, but it's been a year since I was on track, and I had a blast ripping around Sonoma aboard the 2022 Yamaha YZF-R7.
It was the perfect motorcycle to get me reacclimated to track speeds, it never made me uncomfortable and when I was sitting in the garage eyeballing this thing while getting geared up, it really looked bitchin 'to me. I am not sure if this review seems overly critical or overtly gushing, but the fact is that the R7 is a fine motorcycle. Is it the bike for you? That's for you to decide, but if it appeals to your sense of style and ticks the technical boxes then I would suggest you check one out in person because they're available at dealerships right now and Yamaha builds great bikes. What more can I possibly say? I like it.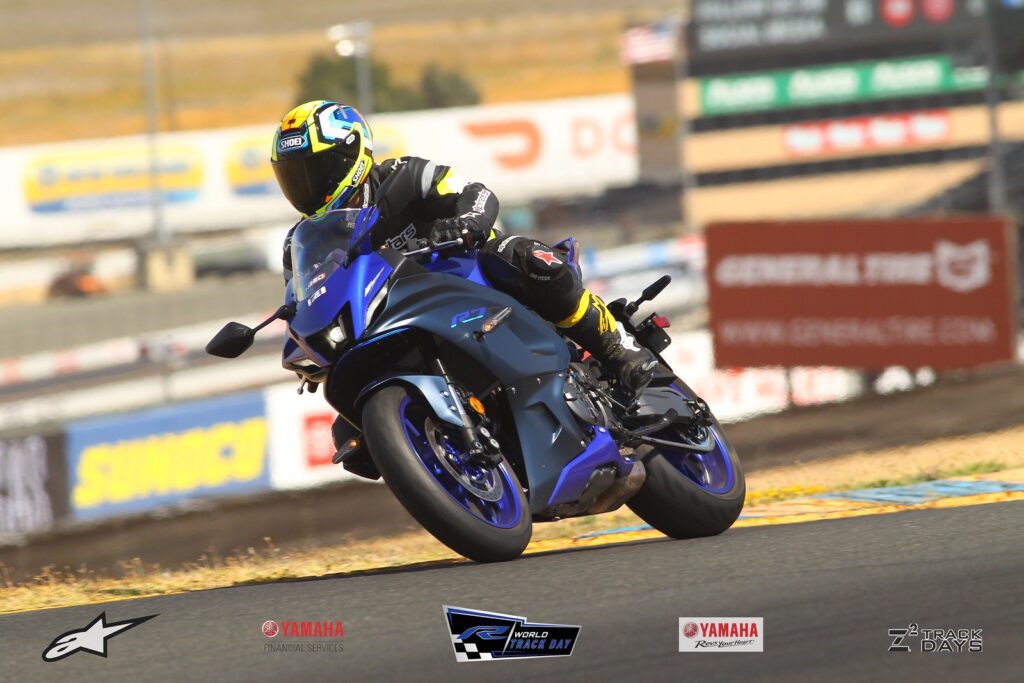 For those of you hoping for a street ride review, stay tuned. We are planning to put that together for you guys soon.
We have a bunch of additional photos from the track and paddock, so if you'd like to check them out, feel free to visit the R World Photo Gallery for a look at a few of the sweet Yamaha motorcycles that were on scene for 48 hours of tire melting fun in the California sun.