After years of riding four strokes exclusively, we decided to give two-strokes a chance again and we are so glad we did. The 2022 KTM 300XC-W with TPI has proven itself to be a worthy off-road motorcycle to thousands of riders around the globe and it has reignited a passion for off-road riding that has changed our entire outlook on the sport. It only took one ride to convince us that I have made a mistake by waiting so long to climb back on the 2-Stroke bandwagon. OOO-ooo that smell. That smell of us around you! My god, I've missed that 2-stroke smoke.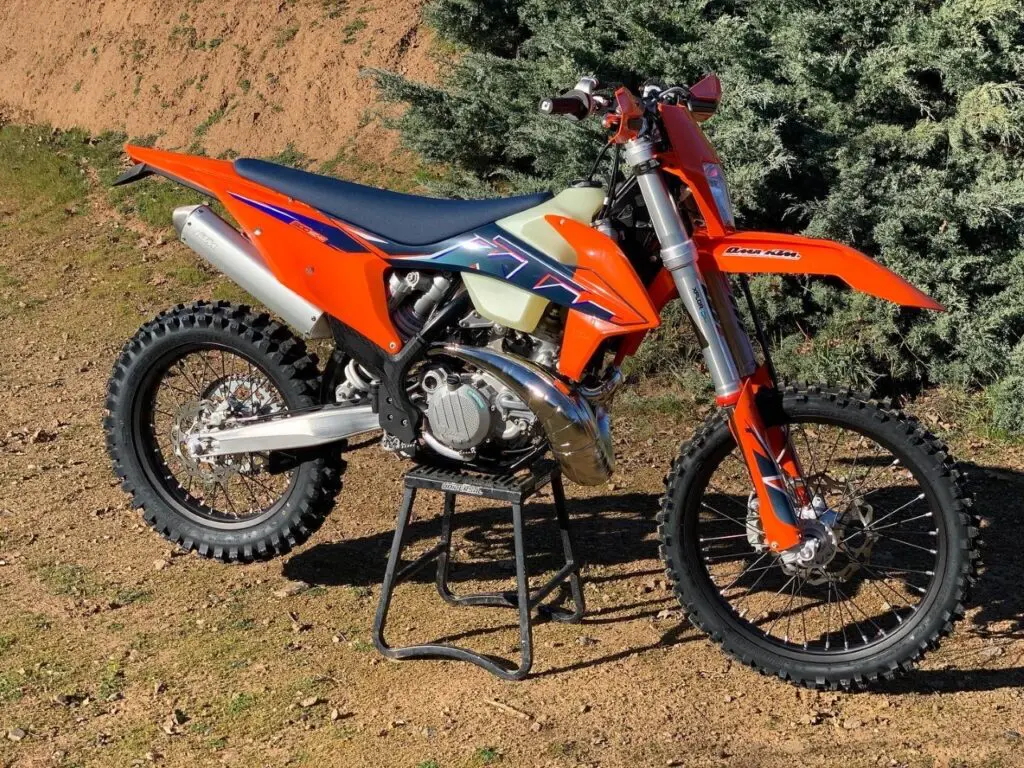 We picked up our 2022 KTM 300 XC-W TPI from our local dealer, OMA KTM for roughly $12,000 with an assortment of aftermarket parts added to the loan. Using the KTM financing was an easy process so anyone who is considering a new motorcycle should not let a lack of cash on hand be an obstacle. There're not too many things as sweet as rolling a brand-new motorcycle into the back of your truck and seeing the look on your kid's face when you do it.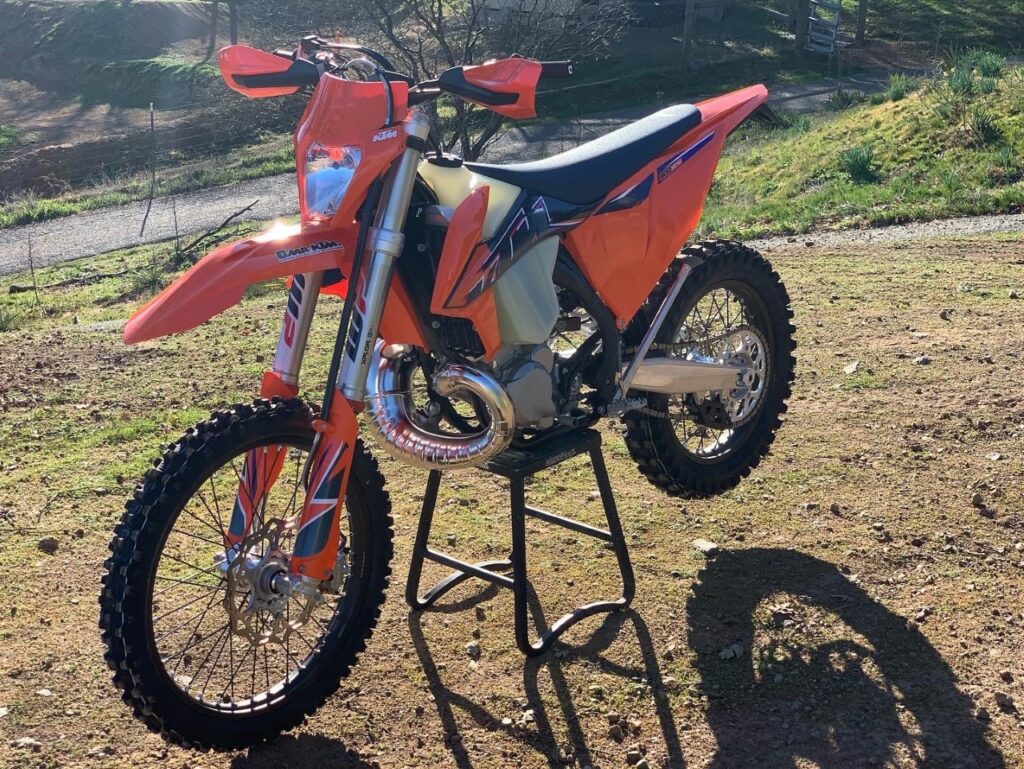 KTM pushes the catch phrase "Ready to Race" pretty hard but we have to agree that for the most part, these motorcycles are just a few pieces away from being race ready. Our goal was to build this bike into a capable off-road racing machine as we intended to dabble in the Oregon Motorcycle Racing Association series and a couple AMA Western Hare Scrambles in an effort to get some racing experience other than simply riding on the motocross track.
In stock trim the 300 XC-W proved to be more than capable. Right away Ethan tackled his favorite past time: Hill climbs. It pained me to watch the first few runs but you have to get the initial scratches out of the way so you can focus on riding. It turned out the combination of light weight and 2-Stroke torque made for an eye-opening experience for my teenage son. After a few passes he proclaimed that although he loves 4-Strokes, he now understands why all our buddies raved about the 300. The passes piled up and the climbs got bigger, longer and steeper throughout the day. the kid seemed unstoppable on the KTM and I had a feeling this was going to be the beginning of a beautiful relationship.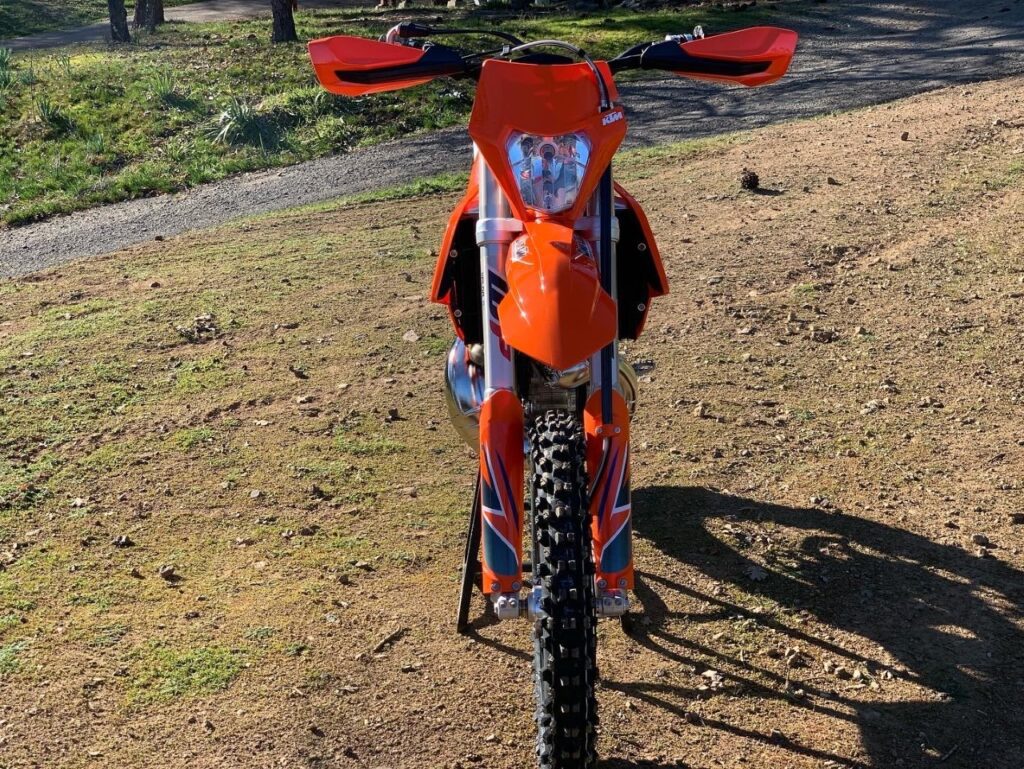 In addition to being a climbing machine the XC-W is also a ripper on the trails. The gnarlier the better too. Whether we were picking our way through technical single-track our blasting fast two-track the KTM has proven to be a blast to ride. There is something about the roomy rider cockpit that seems to suit my kid's six-foot-tall frame and aggressive riding style. I've been riding miscellaneous motorcycles the last twenty years, so it feels great for my five-and-a-half-foot tall old man body as well. Ethan has a knack for setting up our bikes these days, so we stick with that routine on all of our machines. We prefer an RC-bend for our Pro Taper bars, levers positioned for a stand-up riding position and suspension a little on the hard side with slow rebound so the kid can haul ass and still not beat himself to death.
Over the weeks that followed we discovered a few things about these new KTMs that everyone should know. The TPI is exposed and vulnerable, so Bulletproof Designs makes an aluminum guard that is easy to install and is invaluable in the grand scheme of things. If you have a KTM, Husky or GasGas 2-Stroke, get this part first. The OEM tires are not too shabby in the grand scheme of things, but we swapped to Dunlop (TK) because they seem to work great in our local mountain terrain.
Withing a week or two of picking up our new KTM we had Ethan signed -up for his first ever off-road race. Since we didn't have a clue how the racing classes worked, we ended up being pigeonholed into signing him up for the AMA Western Hare Scramble Open-B Class. Although he was only 14 years old, he is simply too big to race on a small-bore bike (plus we don't have one) and he is pretty fast so we figured we would try B-Class instead of C so we could see how he stands up to the competition. He had a terrible starting line position but still managed to go into the first turn in second place with an impressive dead-engine start. From there he battled with the men of Open-B and ultimately finished sixth in the class and first for our OMRA championship. Not bad for his first hare scramble on a basically stock, week-old bike.
Stay tuned as we keep the tales of E and his exploits as a kid racer.