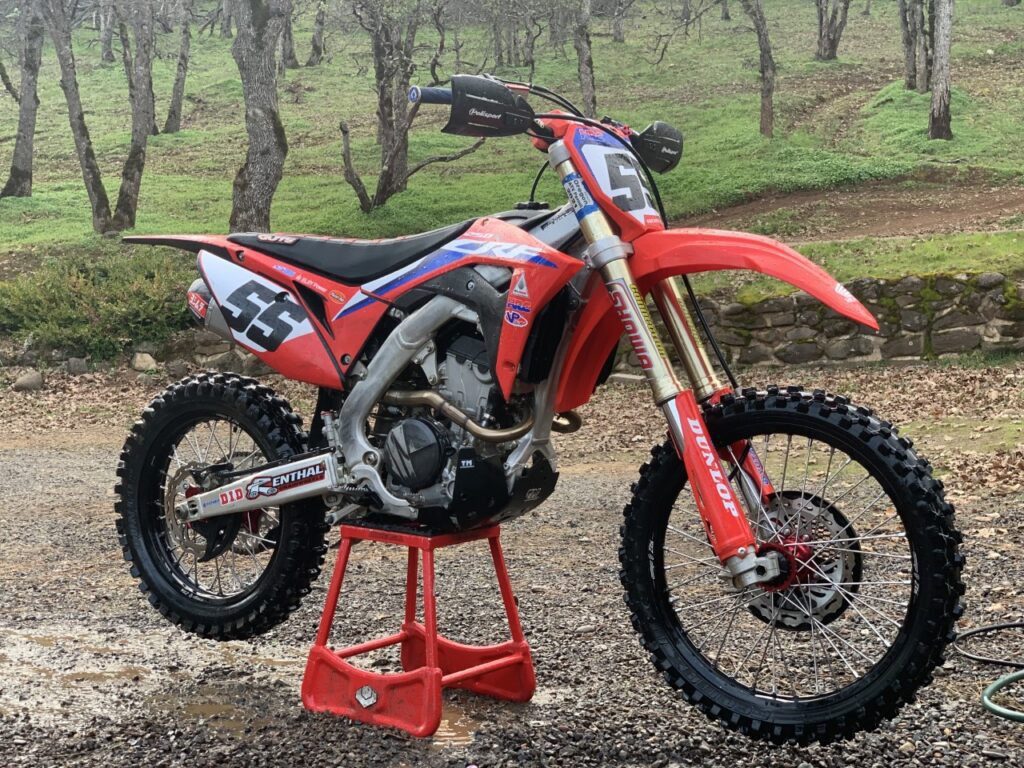 When it comes to building a motorcycle to suit your needs, sometimes you have to work with what you have available. Case in point – our 2019 Honda CRF250R MX bike. One of our friends bought this bike new and quickly discovered that riding off road was not as easy as it looks so they sold it to us with bent bars, busted levers and scratched up plastic… and about two hours on the clock.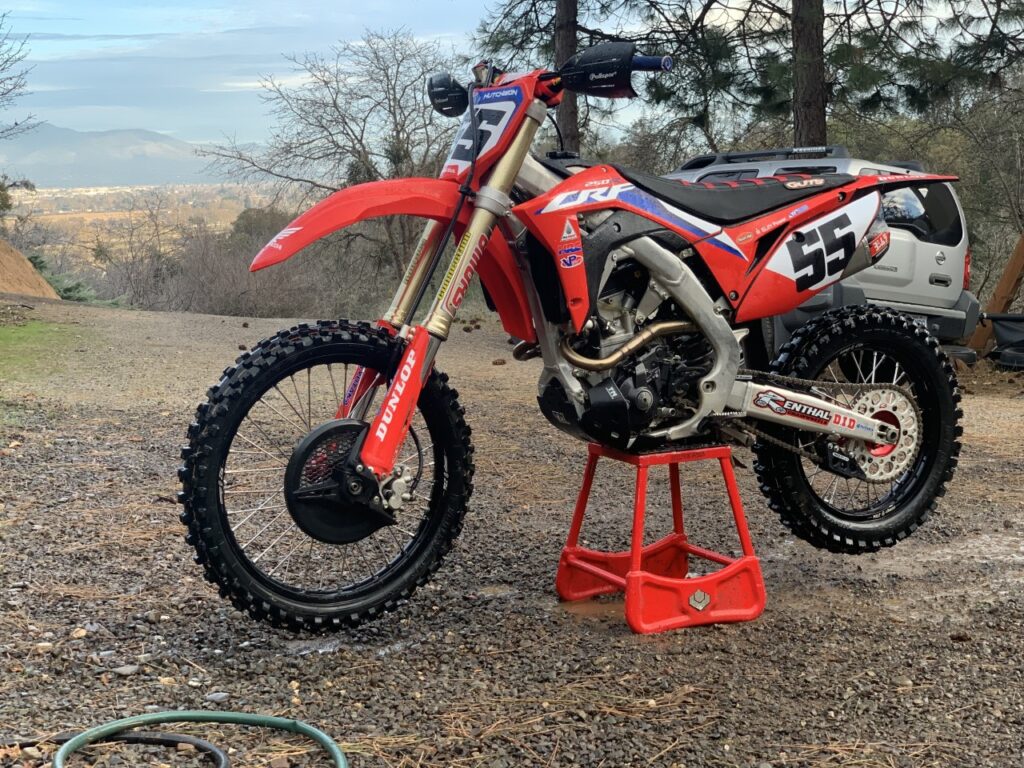 At the time, our plan was to use it as a moto bike since my son was having fun racing with his friends at the local MX tracks so we went to work piecing together what would become a great all-around motorcycle that served us well for the next year. The first order of business was prepping the 250R for its future as a multi-use moto machine. We installed a red Polisport body kit with a black rear fender then covered it up with a (TK) graphics kit. A Guts Racing seat cover and a Yoshimura RS9 full system with spark arrestor inserts were our first big purchases. We had a set of black Warp 9 wheels with red hubs and an 18-inch rear so the bike would be well suited to both off-road and moto.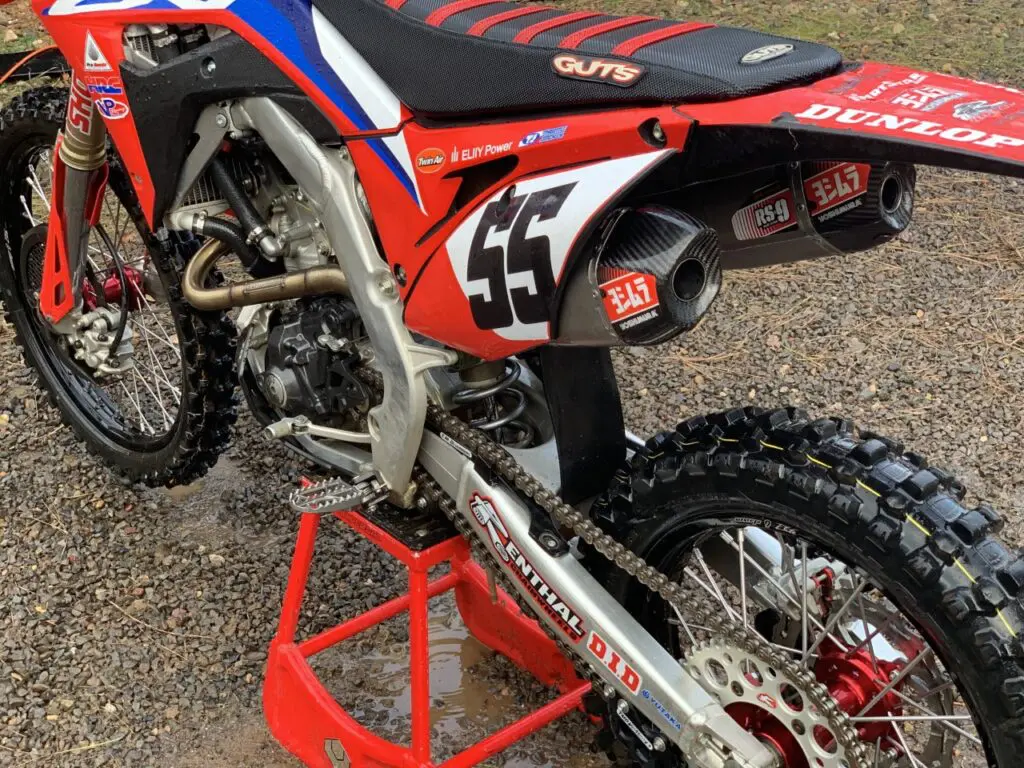 After setting the stock suspension up to the best of our ability and spooning on a fresh set of Dunlop tires, we discovered that the CRF was a capable ripper in the 250 Beginner class. Ethan had a blast, grabbing holeshots in almost every moto and even pulling off a win here and there to kick off his racing career. We eventually dialed in the gearing with a 13/50 Renthal sprocket set-up. We experimented with a couple different brands of chain along the way and discovered quickly that you get what you pay for. The cheaper Bikemaster and EK chains did not hold up at all compared to the D.I.D. Gold so we've stuck with that set-up after running through chains too quickly.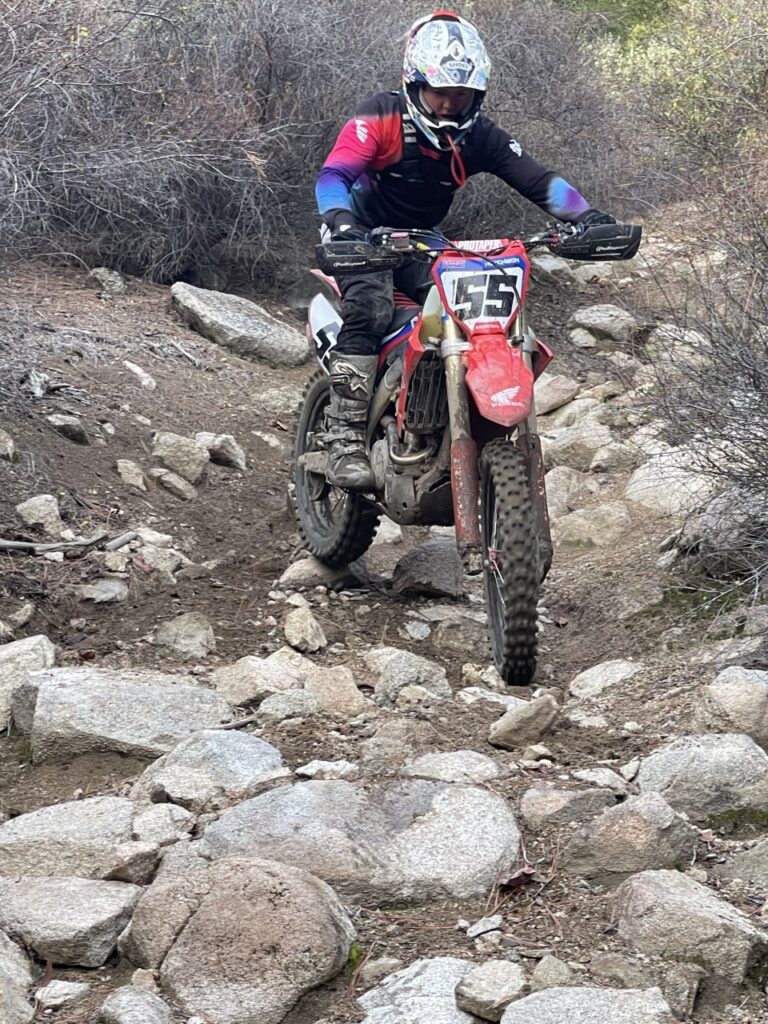 As much fun as moto might be, the majority of our riding takes place off-road. We have the spectacular John's Peak OHV area within 30-minutes of our house, so the CRF was destined to evolve into a nice trail bike. Some key upgrades that allow the Honda to handle the rigors of off-road better included a set of (TK) radiator braces a locally manufactured TM Designworks full coverage ABS skid plate and some Polisport flag hand guards. The final piece of the puzzle was the 2.5-gallon IMS natural gas tank. It always gave us a chuckle when he would line up to race moto with his woods bike and still squeek out a win.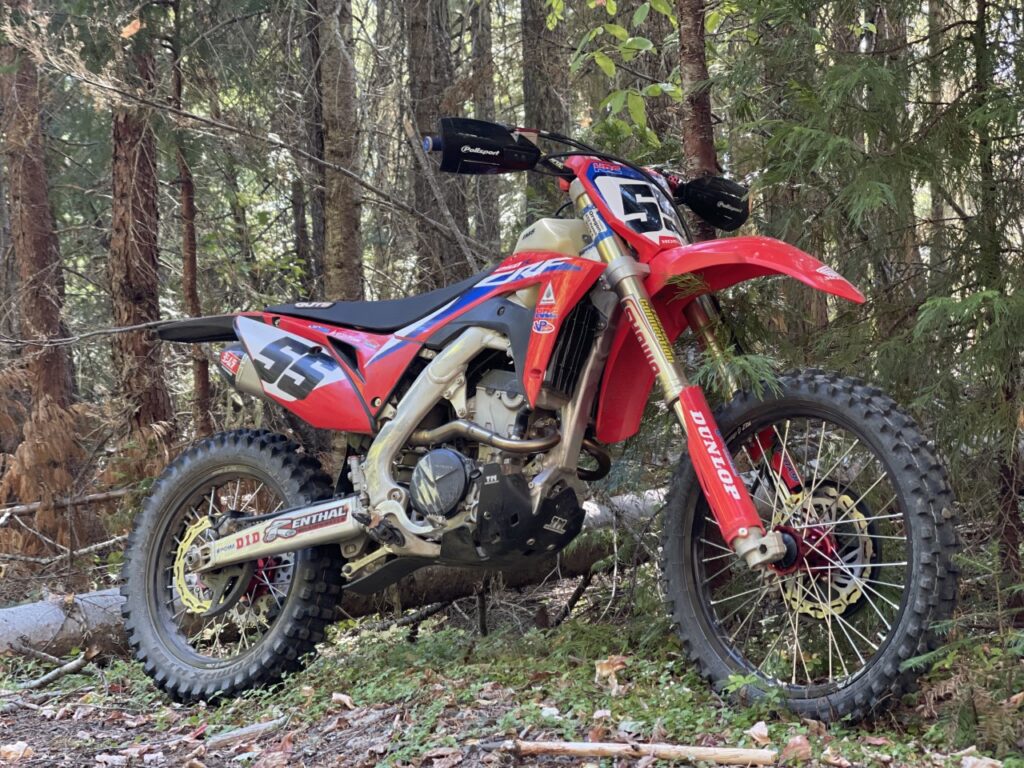 Overall, our experience with the 2019 Honda CRF250R was almost entirely positive. The bike wasn't the fastest 250 on the track but Ethan rode it well and and had a blast doing it. He even picked up a 250 C Class win at the Idaho round of the 2022 AMA Western Hare Scarmbles. That would be the last time he rode his beloved 250R because we were about to make a transformation from a 4-Stroke only family after buying our first of many 2-Strokes that have since kicked off a new chapter in our family off-road riding experience.