We have always had a soft spot in our heart for the old Kawasaki KLR650 and over the years we have assembled a pretty nice dual sport/adventure bike build using our long-term test machine. With help from AltRider, Leo Vince, Touratech, Giant Loop, Progressive Suspension and Michelin, we feel this black and blue bomber is one of those motorcycles that rides as good as it looks.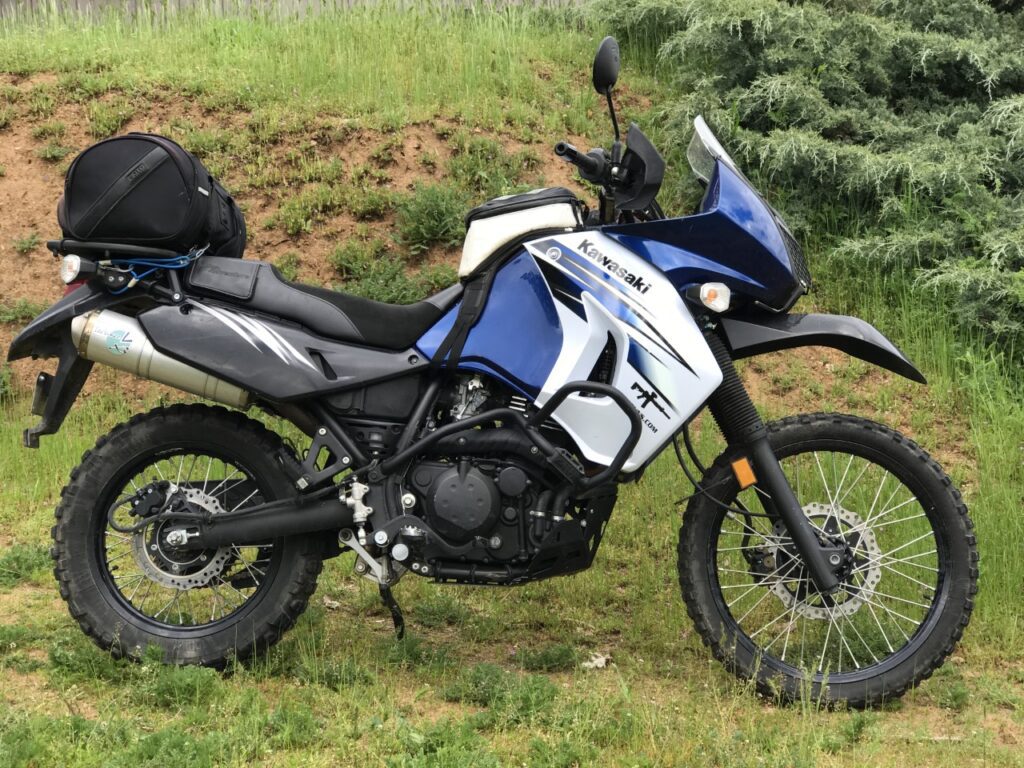 The MotoUSA Kawasaki KLR650 Project has become one of our most popular motorcycles to ride among all of our friends. With a bunch of easy add-on parts, this big pig is more fun to ride than almost any bike in our jam-packed little garage.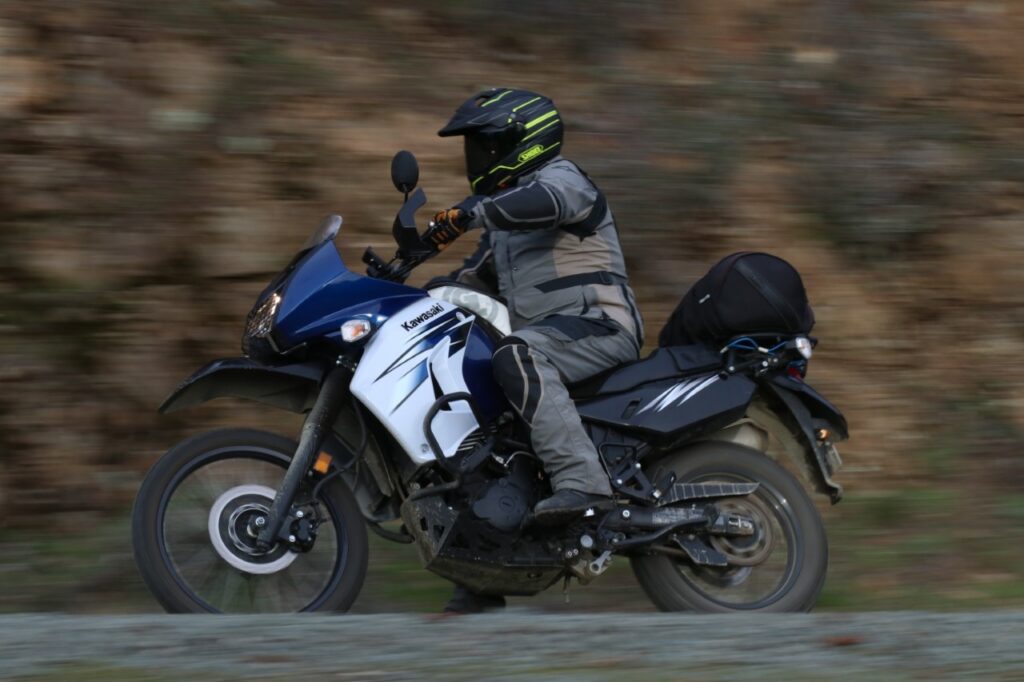 As with most adventure bikes or dual sports, you will spend more time on the road than off road. The key to any good dual sport build is to know how you like to ride before you start buying parts. Here in Oregon, we like dirt roads, concrete back roads and anything in between.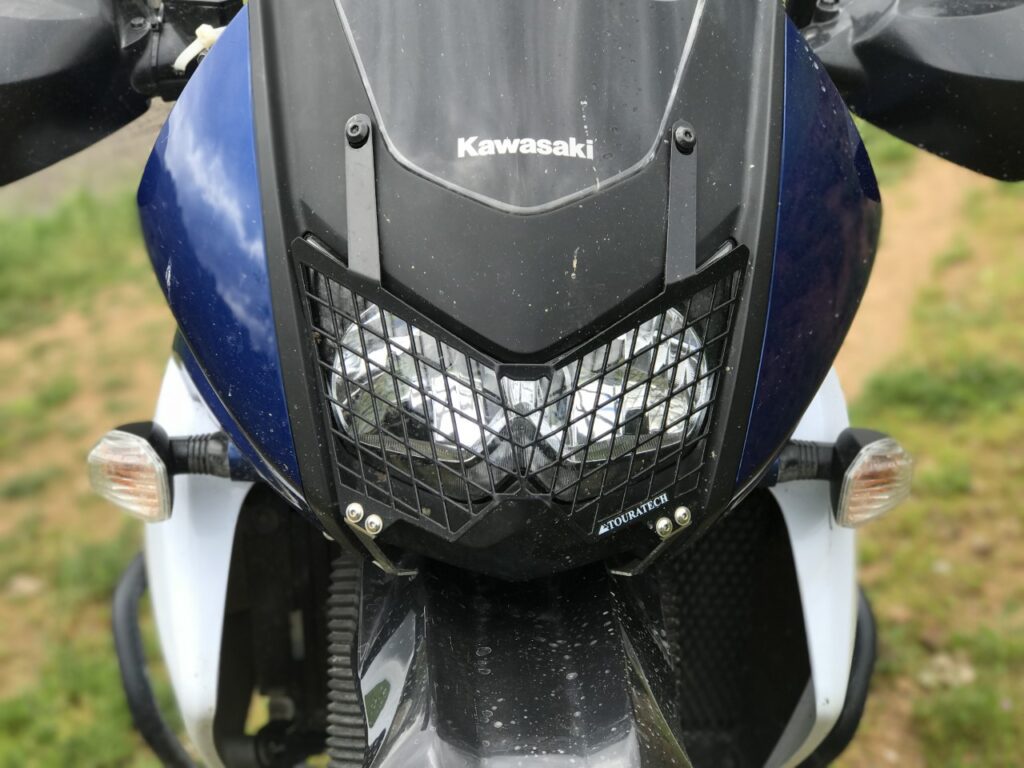 One of the easiest upgrades was the addition of a Touratech aluminum headlight guard. It's easy to install and provides excellent protection from rocks, roost and debris that can get kicked up when you're riding off-road in groups. It took approximately a half an hour to install.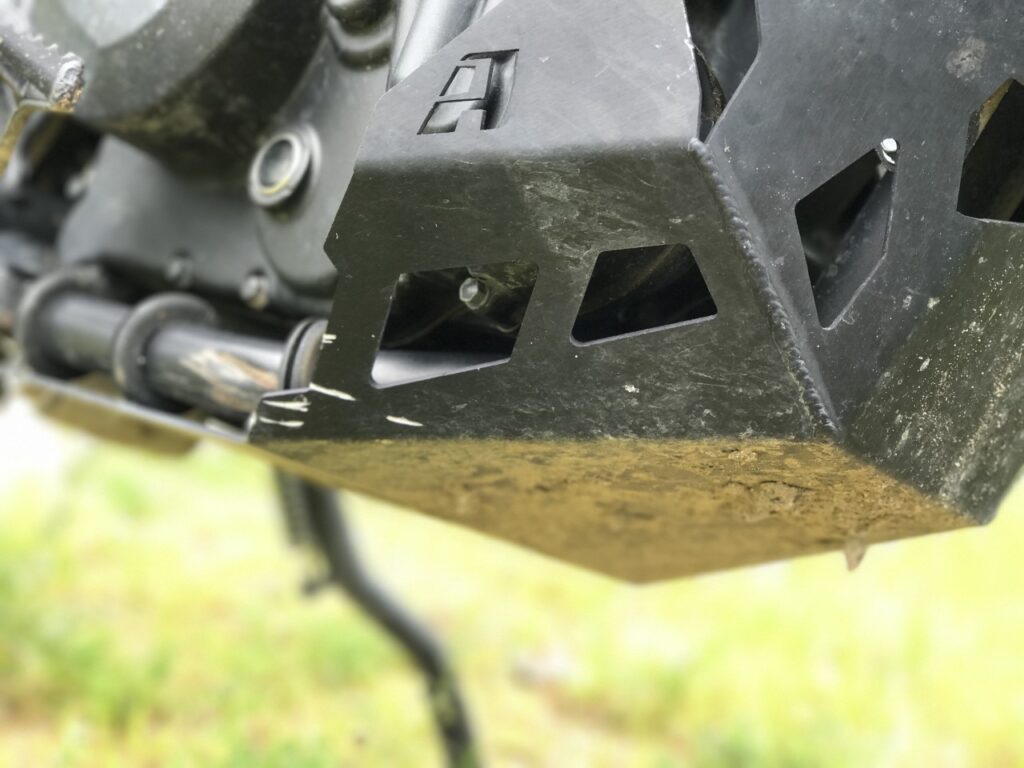 It may not be as conspicuous as the headlight guard but this aluminum skid plate from AltRider is our favorite bolt on part. Bashing through boulders and ruts on the softly sprung KLR requires some impact protection. Installation took about an hour and it has earned its worth again and again over years of OHV fun from the woods of the Pacific Northwest to the rocky deserts of the Southwest of the old USA.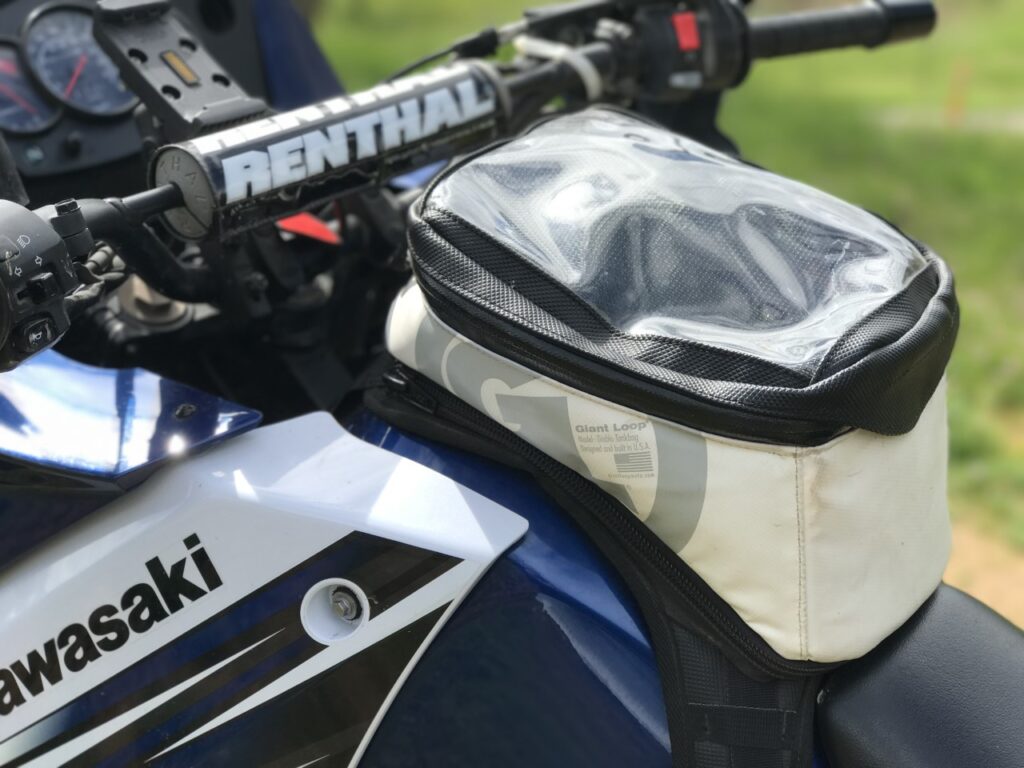 Giant Loop provided us with their sweet vinyl tank bag that looks like it would survive as a white water rafting dry bag. The complicated attachment strap might scare some people away but the secure placement guarantees your various sundries will always be at your fingertips. Access to the fuel fill cap requires you to unzip the bag from the strap but we've grown to like how it works over the years.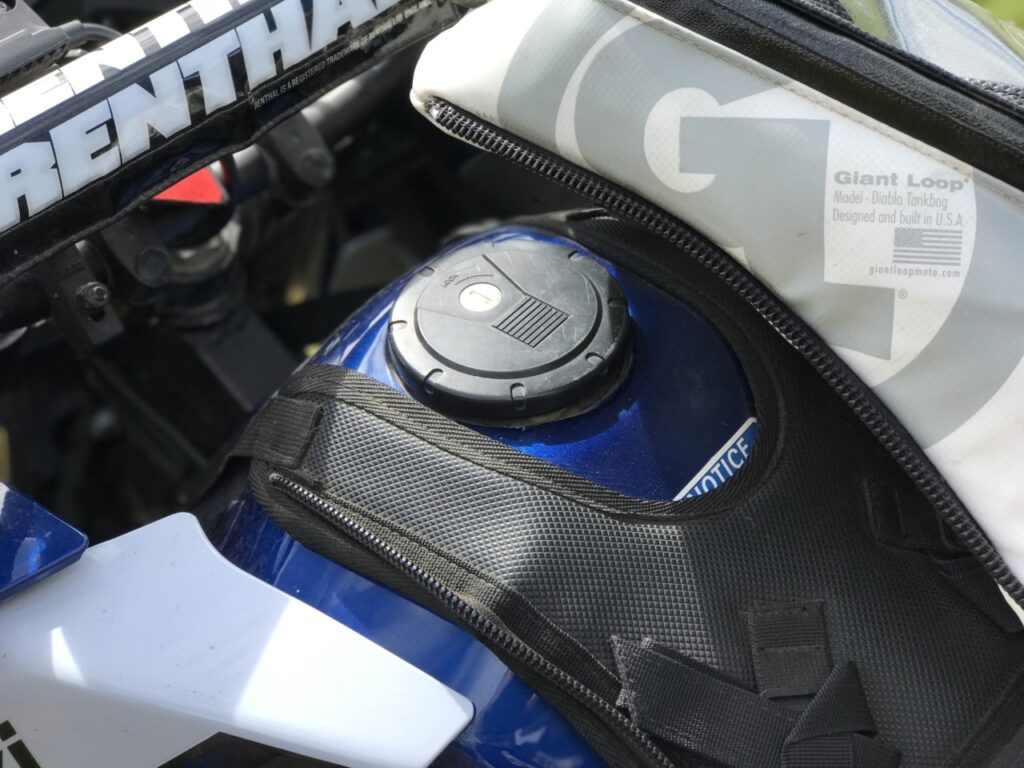 Leo Vince makes this clean X3 slip-on exhaust with built in USFS approved spark arrestor for the KLR650. It does make the bike a little louder, but it also cleans up the backside of the bike. The OEM muffler is an eyesore, and any respectable rider is simply obliged to get rid of that thing. The X3 fits nicely inside the right rear panel of the KLR and installation was simple.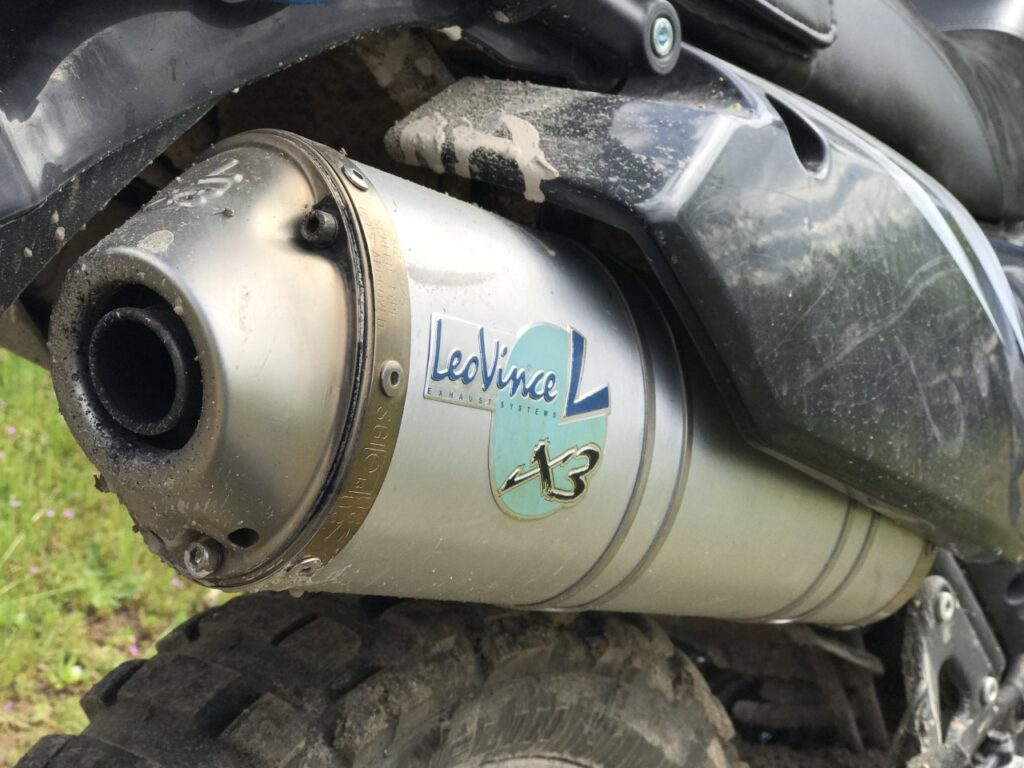 Regardless of how good your motorcycle looks; it simply won't get the job done without a top-quality set of tires. Since we split our riding time about 50/50 off-road and street, we opted for the Michelin T63 dual sport DOT approved tire. We've had a few sets on the bike over the years and we have come to expect it to look like this after roughly 2000-miles of combined riding. The T63 offers great traction off road while also proving to be fairly durable as a street legal knobby.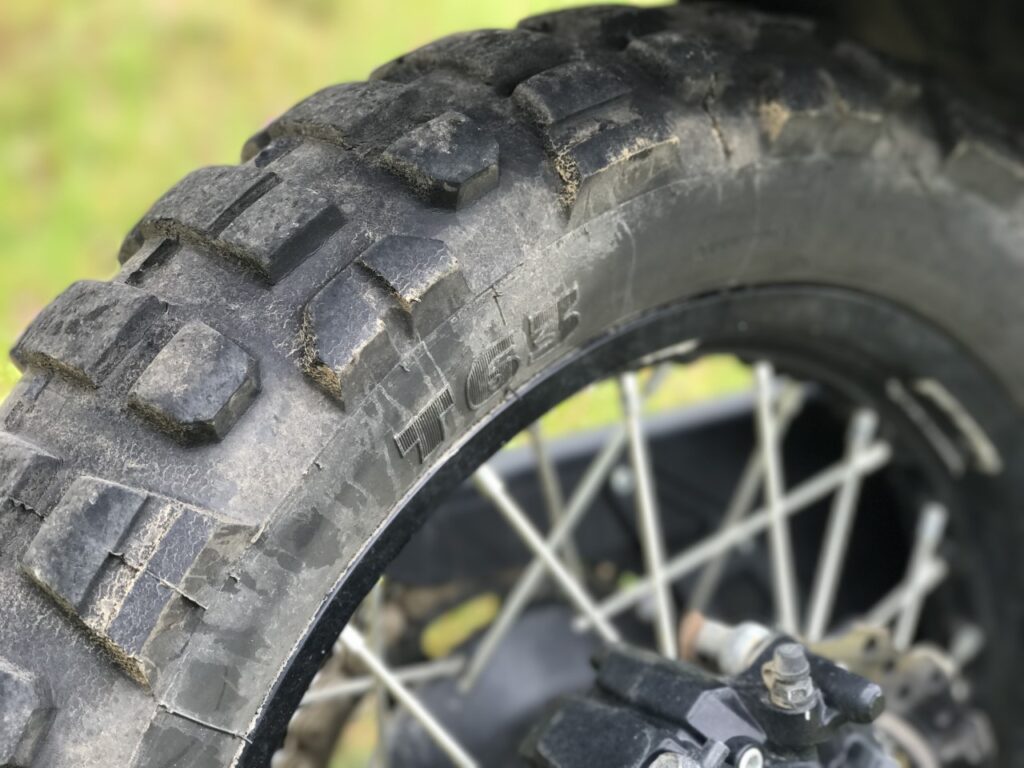 You can make a case that the KLR is simply too big and soft to be any fun to ride offroad, but I beg to differ. We called on Progressive Suspension for upgraded fork springs and a pre-load adjustable rear shock. That combo has proven over and over again that is more than capable of handling low speed OHV trails while also offering up a much more compliant ride on the street.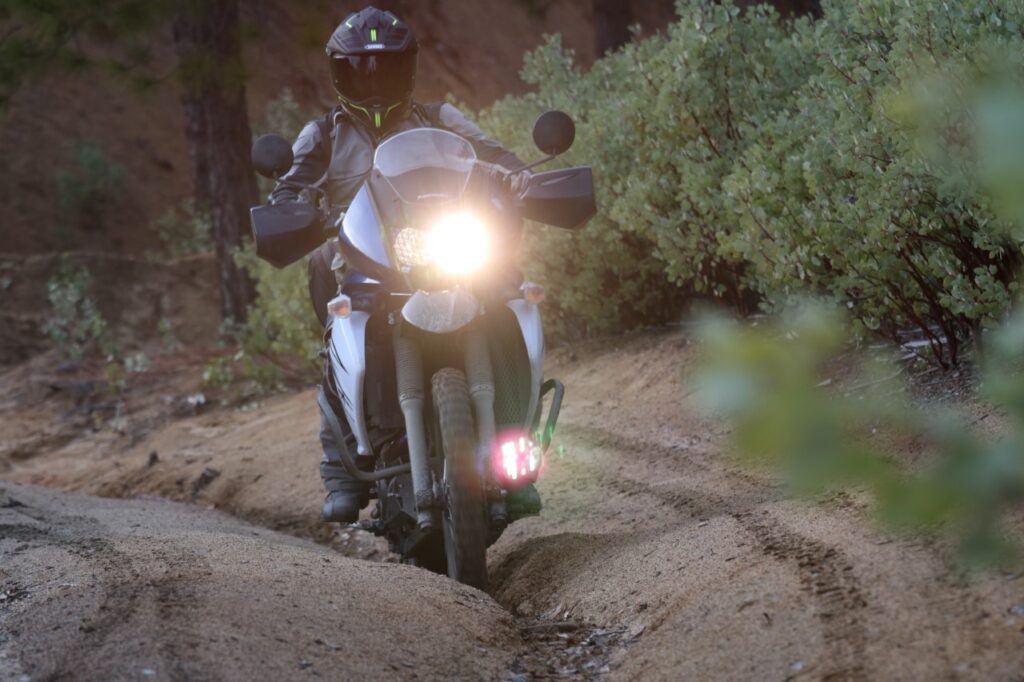 Saddlemen Seats makes this funky looking example of a one-piece seat for the KLR. It's unique design is supposed to take the load of your ass over the long haul, while also providing plenty of grip when you ride off the beaten path. At this point we have a love hate relationship with this design. Overall, I like it but dirt and debris gather up in that slot and while the suede looks and feels great it also retains water longer than a vinyl style seat cover. Yet here it is, the seat I prefer over quite a few other aftermarket designs and the plush padded OEM seat as well.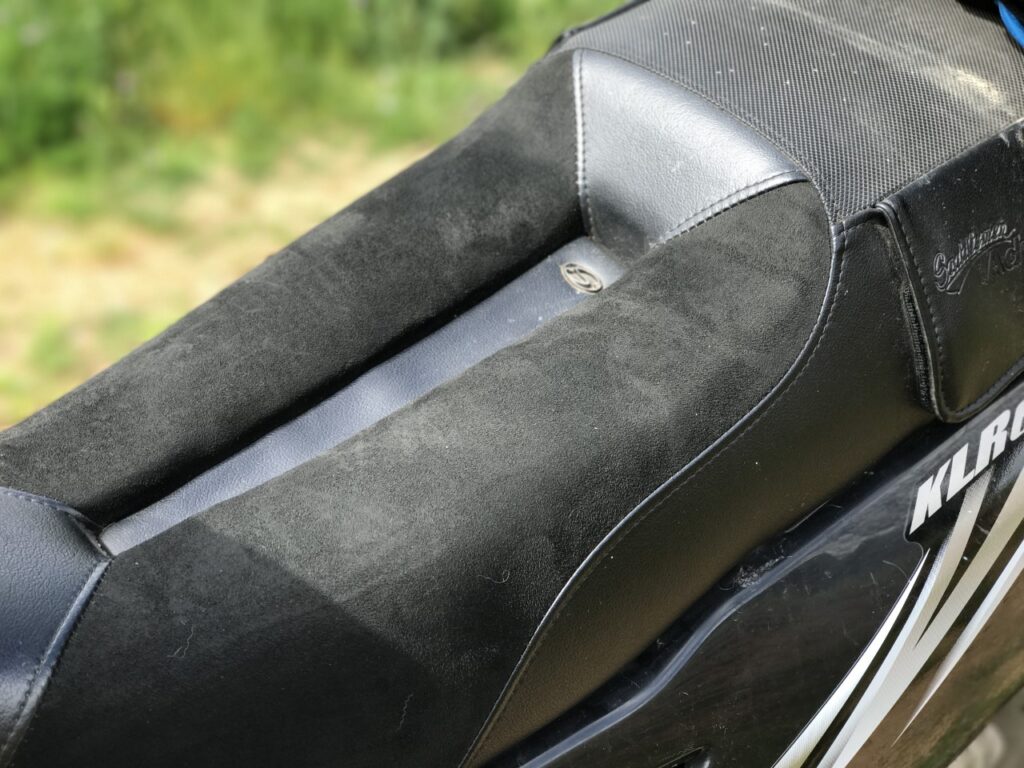 Between me and a few friends, we have logged about 20,000 trouble free miles aboard our 2012 Kawasaki KLR650 Project Bike. Sure, there are plenty of other goodies we could add on to this motorcycle and most of them would make it even better, our goal was never to make the ultimate KLR but instead, we wanted to build a better KLR with a little help from our some of the industry's most popular dual sport and adventure motorcycling related companies.